Teeth missing from the smile cause several functional and aesthetic detriments. Dental implants provide a comprehensive replacement for entire rows of missing teeth, everything from root to crown. Visit Premier Dental Group of Wellesley for dental implant placement and restoration. Schedule a consultation with our dentists to determine whether dental implants is right for you.
Replacing Missing Teeth in Wellesley
Dental implants are made up of three components: the post, the connecting abutment, and the crown. The titanium post is directly placed into the jaw to replace the natural tooth's root and support surrounding bone. The bio-compatible material fuses to the bone and improves its strength while preserving existing structural integrity. An abutment connects the prosthetic to the post to complete the restoration.
This procedure is versatile in its application, able to create the following restorations:
Single-unit crowns replace a missing tooth at any point in the smile. A single post is implanted directly into the space left by the missing tooth to replace the tooth's root. A crown caps the tooth to serve as the visible surface of the new tooth.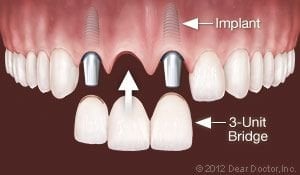 Multi-unit bridges
replace a short row of teeth while preserving the structure of surrounding teeth and bone. While traditional bridges require altering adjacent healthy teeth to anchor the prosthetic in place, implant-supported bridges utilize anywhere from two to three implant posts placed directly into the bone.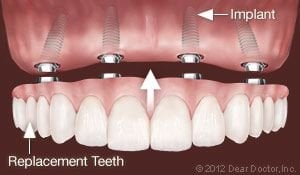 Implant-supported dentures
replace an entire arch of teeth using anywhere from four to eight implant posts strategically placed in the most optimal position for support and longevity. These add stability to dentures while also reducing accelerated bone atrophy that result from empty spaces left in the jaw.
We now offer mini dental implants as an alternative option. These are best utilized in areas where the bone may be small or the space for tooth replacement may be too small for a standard implant. Mini implants are a viable option for anterior bottom teeth and stabilizing dentures.

Dental Implant Procedures
Dental implants require adequate bone density and size in order to successfully receive and support the posts. We offer necessary bone grafting, ridge augmentation, or sinus lifts procedures to enable patients to receive dental implants safely.
Who Can Get Dental Implants?
Patients who have generally good dental health can get dental implants. Viable bone tissue is needed to ensure that the implants will stay rooted. That's why it's important to see a dentist for a tooth implant as early as possible. In some cases, a bone grafting procedure can help improve a patient's chances of having a dental implant integrate successfully.
How Long Will Dental Implants Last?
For patients of a certain age, a dental implant has a good chance of lasting for a lifetime. The crown part of the implant can last for up to 15 years before it may need to be replaced. Seeing your dentist at least two times every year for professional cleanings and becoming meticulous about at-home dental care will ensure that the implant (and your other teeth) stays strong and healthy.
Do you need Dental Implants or would like to learn more?
Then call Premier Dental Group of Wellesley today at (781) 237-3031
For more information or to schedule a consultation!